There are many different ways that people apply their art to t-shirts including:
•    Embroidery
•    Screen print
•    Heat Transfers
•    Spray Painting
•    Hand Painting
The beauty of creating these artistic shirts is that every single design can be unique. The key to producing an attractive product that will boost your business is to start with the quality wholesale sporting apparel that will support the type of design you plan to apply. T-shirts are the most popular type of garment used for artistic design but you may decide to expand your business to include sweatshirts, shorts and other garments.
Where to Buy Wholesale Sporting Apparel
There are many sites online where you can purchase wholesale tees, shorts and fleece at a discount but they do not all have the same quality products that you want to carry your artwork. It is important to choose a manufacturing company that has a long history of providing garments that have been used in a wide variety of ways with success. The last thing you want is to purchase a bulk order of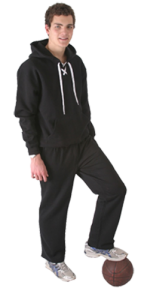 t-shirts and put your time and money into decorating them only to learn that they do not maintain their shape when they are washed. In order for any design to maintain its good looks over extended wearing and washing cycles, it will need to maintain its size, texture and color when placed into the laundry. Otherwise, the design could become distorted or come off the shirt.
In addition to choosing a reputable wholesale sporting apparel manufacture from which to purchase your t-shirts, you also want to find one that offers a variety of colors, sizes and styles. Most t-shirt artists create custom clothing for people of all ages and sizes. Even if you begin with one or two basic colors in a small size range, you will want to have more options available to you with the same company.
Buying in Bulk
Some of the companies that manufacture wholesale sporting apparel only sell in bulk with large minimums to buy. This makes it difficult for the purchaser if you do not know the reputation of the manufacturer and/or you have a tight budget to work with. Having the option to buy more pieces at greater savings is a convenient one as long as you also have the option to purchase in smaller quantities when needed. A real value lies in getting the quality product you need at the lowest possible price.
Benefits of Using Athletic Apparel for Your Designs
There is a significant difference between purchasing cheap t-shirts and wholesale athletic t-shirts that are made to be more durable. These shirts include features like moisture management material, athletic cuts that make them more comfortable, and professional construction that will make them last a long time.
Purchasing t-shirts from a quality wholesale sporting apparel manufacturer is a sure way to make designs stand out and provide your customers with a quality garment that will make them come back for more.