Have you ever wondered if all sports clothing manufacturers are the same? This is a question that many wholesale buyers ask every day. Many of these buyers are working on tight budgets, but they are also committed to providing the best quality sports apparel they can get. Trying to accomplish both tasks—staying on budget and getting quality sports apparel—can be challenging. At Dodger Industries, we believe we have the solution to both of these issues.
It must be said straightaway that sports clothing manufacturers are NOT the same. There are plenty of online sports clothing manufacturers who are providing low-quality, inferior products to buyers all over the world. Some online vendors who market wholesale sports apparel have jazzy websites with wonderful photos of their products. The problem, of course, is when the order arrives the buyer discovers that the products are not what they appeared to be in the ads. This type of disappointment is becoming more and more common and buyers are tired of being misled.
Trust and integrity are two words that our company has put into action over the last 70+ years. We have been serving our customers for more than seven decades and during that time we have earned a reputation as being one of the best sports clothing manufacturers in business today. This is one reason our customers keep coming back to us for their sports clothing.
Another reason our many customers trust us as their sports clothing manufacturer is because we have the inventory on hand to ship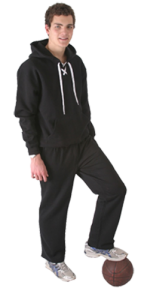 orders fast. No one wants to place an order and then have to wait for long periods of time before it arrives. We keep our inventory updated in sizes, colors, and styles. Our customers appreciate our fast shipping, and so will you!
As leading sports clothing manufacturers, we believe our customers are also interested in knowing that in 2010, Dodger Industries, Inc. was acquired by The Greene Company of Virginia. This is a certified Woman-Owned Business Enterprise with the State of Virginia, and has the stated goal of providing Dodger broader financial and manufacturing capabilities that allows for more competitive pricing on our core products.
Our core products are some of the best on the market today and include wholesale athletic apparel such as athletic shirts and shorts, and our very high-quality fleece apparel that has become so popular with wholesale buyers. In addition, we have developed other products including our new Moisture Management Dodger-Dri polyester fleece.
The fact is we offer one of the most extensive lines of wholesale sports apparel available today. We know that as one of the leaders in the sports clothing manufacturers industry our customers have wide-ranging needs and we work hard to make sure we have what they want. One look through our online catalog of products will prove this out to anyone. Best of all, we have worked hard to make sure our price points are as low as possible, making buying from us affordable as well as easy.
The bottom line is that sports clothing manufacturers are not the same. Some are better than others, and that is simply a fact.