Sporting apparel encompasses clothing made specifically for athletes and people who participate in activities involving sports and other types of physical exercise.
Consumers, including professional athletes, buy sporting apparel for a variety of reasons. This type of clothing is specifically designed for sports and various types of physical exercise, mainly for practicality, safety and, in most cases, comfort.
Behind Sportswear
Sportswear, also known as active wear, is designed to be lightweight. This prevents the wearer from feeling encumbered during any type of physical activity. Clothing worn for physical activity like sports are also loose enough to avoid restricting the athlete's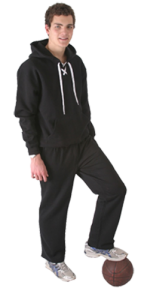 movement. Some sports require protective gear, however most people who wear active-wear don't require protective gear.
That's because most people who wear active wear or sports apparel are not athletes. Sports apparel has actually become more popular for every day wear. The sales of sports apparel in the United States, to provide an example, have increased throughout the past decade. Many consumers go for sports apparel for the comfort and convenience afforded by this type of garment.
Men's sporting apparel is naturally popular. In fact, plenty of retailers sell various types of men's sporting apparel, whether you're shopping on the web or heading to a retail store.
Athletic apparel for men has come a long way. Advances in sports clothing manufacturing have caused these garments to evolve throughout the years, after all. In this short article, we're going to take a closer look at how men's sporting apparel has evolved over the years.
The Evolution Of Men's Sporting Apparel
Nowadays, athletic apparel encompasses specialized sports clothing and fashionable threads for everyday wear. The diversity of sporting apparel, specifically men's sporting apparel, is attributed to how the materials themselves evolved over the years.
The evolution of sporting apparel started from, literally, nothing. Historical accounts have found that Ancient Olympians participated in many sporting events in the nude, as wearing no clothing offered athletes a better opportunity to meet their maximum performance.
Clothing came into fashion well into the Victorian era. However, performance wasn't the most important factor during sporting events of the time. Most athletes were covered in garments that were baggy and heavy.
Speaking of baggy and heavy, many instances of men's sporting apparel were made with heavier natural materials like flannel and wool. These fabrics are notorious for retaining moisture, and this made it difficult for athletes to move around, especially if they were sweating.
By the 1940s, nylon became a common material used to make men's sporting apparel. And, by the end of the 1950s, Spandex came into fashion. By then, sporting apparel was starting to move away from natural fabrics and to synthetic fabrics specially noted for their 'moisture wicking' properties. These fabrics are known for allowing sweat to roll off the skin to the surface of the garment, allowing the sweat to roll off or evaporate from the wearer.
Today, men's sporting apparel is designed with both performance and fashion in mind. Not only do athletes enjoy the benefits of professionally made garments, specifically made to optimize their performance, but consumers can enjoy wearing comfortable garments made specifically for being active.